We are dedicated to making our school a safe environment for children to use technology. We know children have regular use of the internet, including social media, outside of school. So, it is essential that children know how to be safe on the internet, wherever they are using it.  
Safesearch is the default search engine we use in school to ensure children are searching safely.  
It is on our website so you can easily use this link to search safely when you are at home. 
We hold an annual Safer Internet Day. The children take part in various activities to help them remember how to stay safe online. We also give E-Safety lessons at least three times a year. Teachers refer to these lessons whenever students use computers, laptops and tablets. This keeps it in everyone's mind. 
The school adopted the phrase "Zip it, Block it, Flag it" to help our pupils stay E-safe. 
'Zip it' - keep our personal stuff private and think about what we do and say online
'Block it' - block people who send nasty messages and don't open unknown links and attachments
'Flag it' - tell someone you trust if anything upsets you or someone asks you to meet offline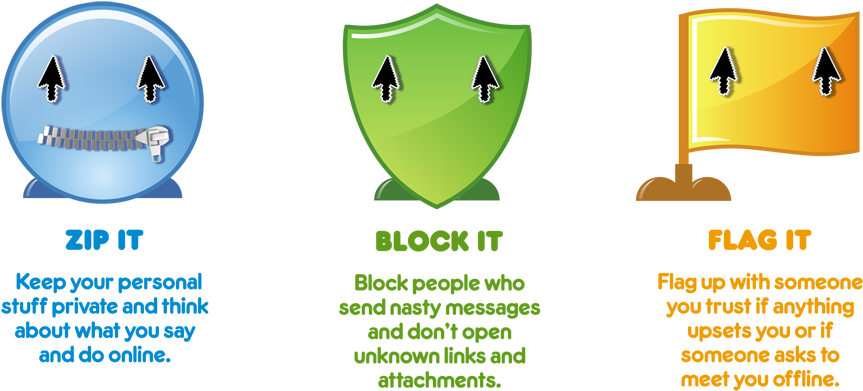 For parents: 
For advice about keeping your child safe online and what to do if you have concerns, visit:
Think U Know
NSPCC online safety
For pupils: 
Think U Know – staying safe online for children 4 to 14+ and what to do if things online upset you